FavoWeb Software Deployment for the Large Avionics Manufacturer: A Complete Cycle of FRACAS Process
The Challenge
Using FavoWeb FRACAS software, the Customer intended to build a standard FRACAS process template customized for him, enabling the organization to progressively deploy FRACAS throughout all Customer projects and support best failure monitoring practice.
Once the FRACAS deployment is stabilized, the Customer would be able to create additional processes (such as production failures and quality process) based on the basic FRACAS process and extend progressively FRACAS deployment across the organization.
The implementation of the FRACAS process is a natural choice resulting the Customer commitment to industry standards of proper handling of failures, such as the "8D" model. See the main process concepts described in the drawing below: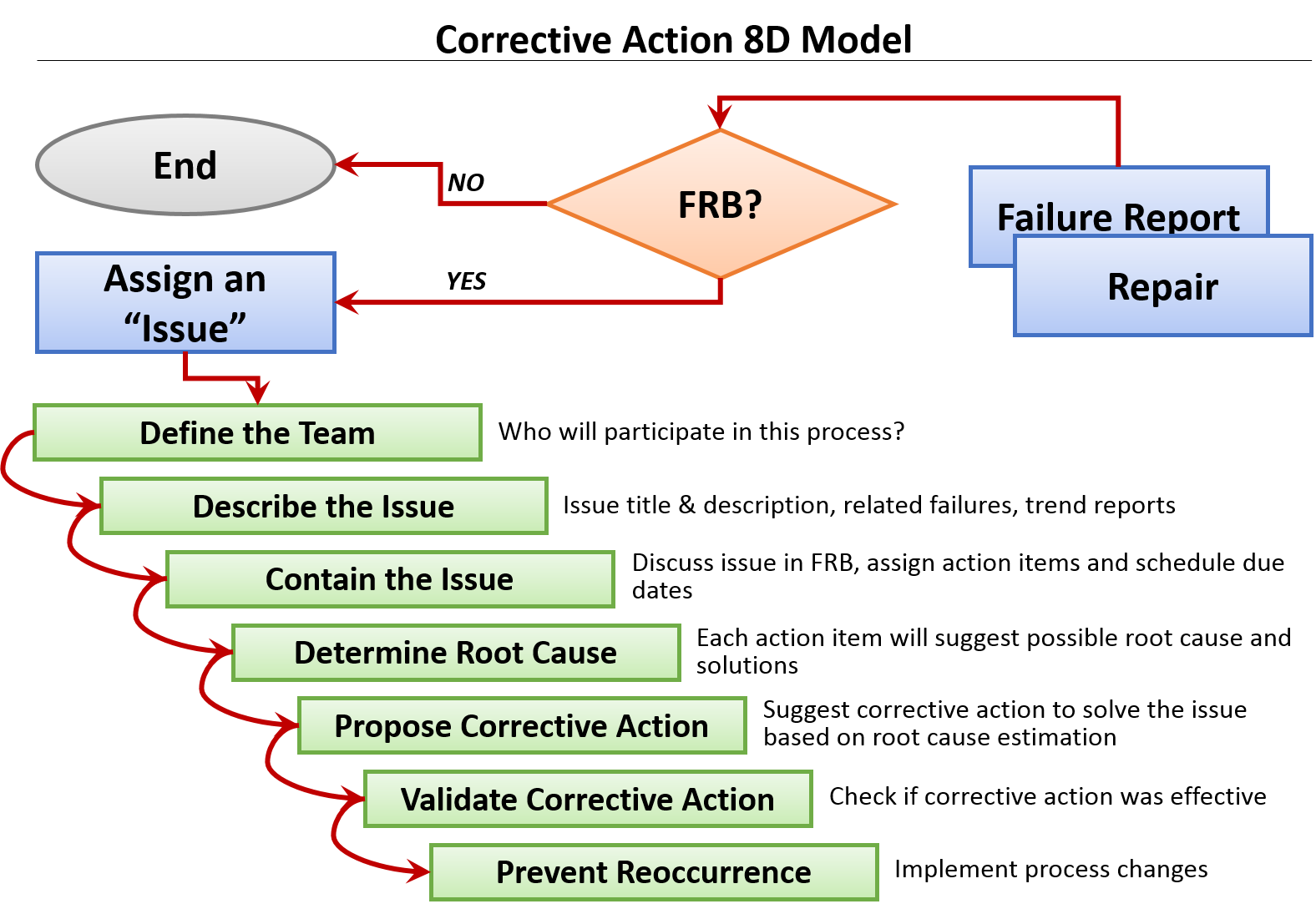 Corrective Action 8D Model
Integration of business rules into one scheme
Planning implementation, ALD Software integrated several processes to an integrated scheme, which covers the following business requirements:
• RMA Request Management
• Returned Units Technical Support Management
• Corrective action process base on the Technical Evaluation process.
As described in the integrated process handling scheme: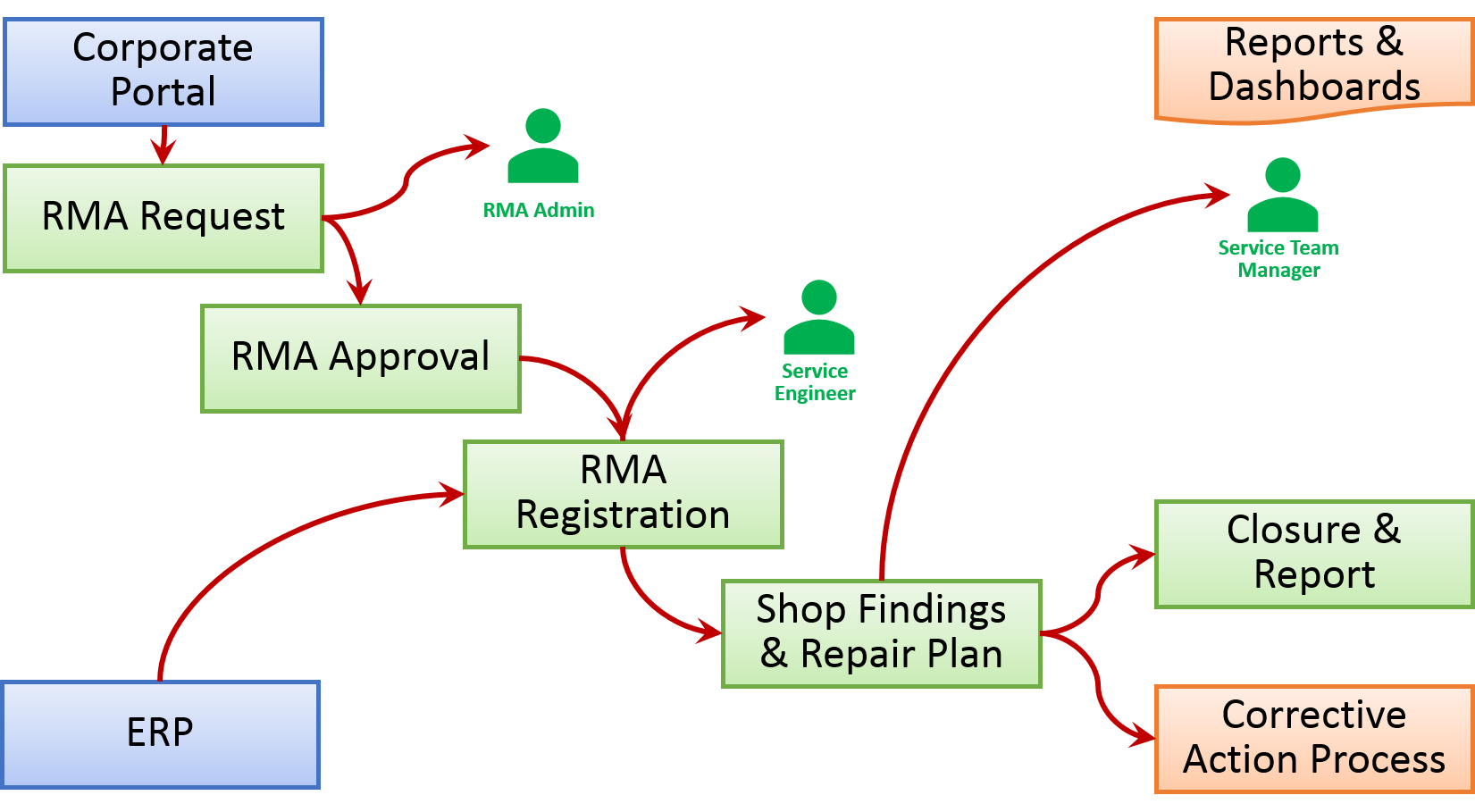 RMA handling flow
One of the technological challenges of many projects concerning process integrations, is the fact that it is commonly involve data from various sources. ALD Software created an integration with several data collection interfaces, such as: corporate portal, Syteline ERP and ARAS PLM platform, to gather all data needed to perform corrective action and analysis activities within FavoWeb FRACAS system.
Delivery of the FRACAS solution with FavoWeb software
After the comprehensive and carefully-planned specification of FavoWeb FRACAS solution was approved by Customer's professional referents, ALD Software team implemented and customizes the core business processes using FavoWeb software capabilities and modules:
• Return Material Authorization (RMA), returned units technical support (TTE) and Corrective Action processes – successfully implemented using the FavoWeb customized forms and workflow capability.
• Customer's connectivity smart reports were defined and implemented using FavoWeb's data export capability.
• Legacy data and configuration data is imported to the system using FavoWeb's Import by Directory module.
• Analysis module successfully implemented, now providing various reports generated by FavoWeb software report generator module (RGN).
The result of this activity gained the Customer total control of the application lifecycle.
Heaving all data available in FavoWeb, FavoWeb FRACAS experts could now use FavoWeb Report Generator module (RGN) to create a set of reports to meet the analysis needs of the process including advanced calculations performed on the data, for example:
| | | |
| --- | --- | --- |
| | | |
| Pareto Report Example | | MTBF Calculation Example |
A usage of FavoWeb RGN module enables to customize and design the report shape and appearance, as well as support of exporting capability to several file formats such as PDF, Excel and MS-Word:
| | | |
| --- | --- | --- |
| | bnbnbnbbnbbbbbb | |
| Shaded List Report | | Customized Layout |
Continuous Support for FavoWeb FRACAS
FavoWeb FRACAS software services have a legacy and tradition for customer care. FavoWeb FRACAS team keeps an opened communication support channels with the customer after the "Go-Live" step of the project.
After delivery of FavoWeb FRACAS software to the Customer, FavoWeb FRACAS experts conducted on-site training for groups of users, addressing the type of users by process usage and by functionality. By this approach FavoWeb FRACAS team succeeded to promote the level of skill and confidence among the Customer's users in every day's work with the FRACAS system.
Additional guidance and consulting is given by FavoWeb FRACAS experts in the scope of post-go-live maintenance and support agreement with the Customer. Additional routine and on-demand session are held both for training and technical support. FavoWeb FRACAS team members are also available online over the web and offline, regardless of being located on different time zones.