A World Leader in Railways Systems use FavoWeb FRACAS Software for Train and Sidetrack Projects
The Challenge
The Customer selected FavoWeb FRACAS system to enable the organization to effectively deploy FRACAS throughout all Customer's projects worldwide and to support best Reliability, Availability, Maintainability (RAM) monitoring practice. FavoWeb FRACAS system is required to provide solution for a standard Customer's FRACAS processes and to support activities of train borne and trackside projects. The system should provide an adaptation option for each project and multi lingual support.
FavoWeb FRACAS project goal at the Customer company was to collect data form field events and operations, RAM monitoring and Corrective Action processes. FavoWeb FRACAS system must be designed for supporting the activities of the following main user groups:
• Customer Care, providing support for customers and documenting failure data.
• RAM Engineering, monitoring RAM performance and promoting corrective actions, as required
Solution Design
FavoWeb FRACAS system was designed and customized for supporting several main processes:
• Collecting and documenting failure and repair data.
• RAM engineering review and classification of all relevant failure and repair events.
• Managing corrective action at any point of event handling process.
• Ensuring traceability of serial items data traceability.
The overview of FavoWeb FRACAS system design for Customer's requirements is described in the drawing below: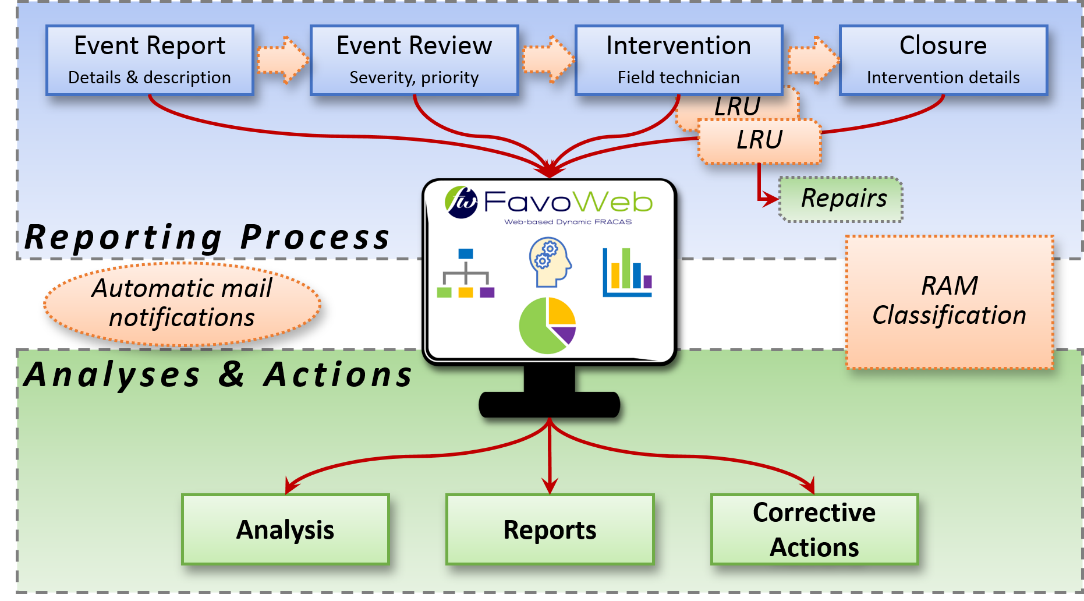 FavoWeb FRACAS System Design
Get on track: Customizing FavoWeb FRACAS solution for the Customer
Combining FavoWeb FRACAS application modules with proper customization that conforms to the Customer's requirements, FavoWeb team implemented and deployed the following processes:
• Event management – Event recording process and collecting data, which includes analysis phase. Data can be inserted either manually, using customized forms or by using FavoWeb's data import module.
• Intervention management – This process deployment allows field intervention team to be notified of an event requires intervention and supply the teams with the means of reporting intervention procedures and recording repair or replacement actions.
• Units (LRUs/SRUs) – FavoWeb FRACAS software contains a module which allows to collect data of system breakdown to the level of sub-systems, LRU's, parts etc., and enable to connect this data to the relevant event / intervention and repair records.
• Corrective action process, including modules for:
FRB (Failure Review Boards) management
Problem management – FavoWeb FRACAS supports the definition of a group of events of common nature / symptoms as a "problem", enables to conduct a series of analyses and corrective actions towards a common solution
Action Items (corrective or preventive).
• Serial data Traceability – the Customer required that all LRU's arriving to project site are registered in FavoWeb serial data module, along with all the relevant data. This applies to both installed units and spare units.
| | |
| --- | --- |
| | |
| Product Tree ("As build") | Item Serial Data ("As maintained") |
FavoWeb FRACAS contains a serial data repository where serial items data is stored. Serial data repository includes serial history module which allows recording, reviewing and analyzing location of each item at any time. A serial item installed will automatically receive installation information data from the unit that was involved in intervention.
Global Challenge: A Multi-Lingual Software
Another aspect of FavoWeb FRACAS software success is the fact that FavoWeb has a built-in multi-lingual support.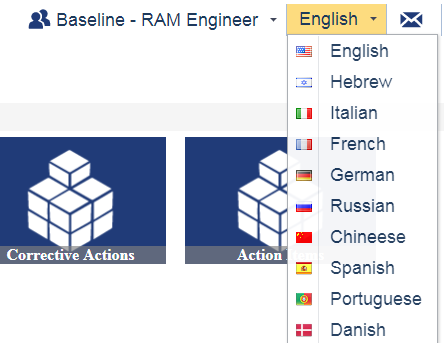 This also valid for parts in the software that were specially customized for the customer.
In this case, having several projects around the world that are implemented in the FRACAS system, Multi-lingual support in FavoWeb FRACAS for the end user is done easily with one mouse click.
Additional languages can be added as required by the customer.
FavoWeb Continues Support
FavoWeb FRACAS software services has a legacy and tradition for customer care. FavoWeb FRACAS team conducts sessions and scheduled meetings (both web meetings and on client's site).
In the case of this Customer project, it is a greater challenge to support a worldwide enterprise with sub-projects activities in several continents. FavoWeb FRACAS team's success is due to carefully planning activities and professional experience. Both training and technical support are also available online over the web and offline, while using the professional support FavoWeb FRACAS Backoffice IT and development teams.
Support is continuously provided with spontaneous (as required) web meetings as with pre-scheduled sessions.